Design
The original planning design boards created by our developers TOWN and Trivselhus with their design team, led by Mole Architects, are here. These responded to a detailed design brief prepared by K1 members. The approved planning application is here.
Key features
These designs reflect our cohousing principles which have been developed over many months of intensive work with our partners.
The designs show:
A blend of homes arranged in terraces – including 3-4 bedroom houses, and both ground floor and 'walk-up' apartments
A block of 2-bedroom apartments sharing a lift core with the Common House
A workshop plus two one bedroom apartments at the south-western corner of the scheme
The Common House near the centre of the site, linking the three focal points for the community: the southern terraces, the shared garden, and The Lane
Car parking located at the edges so that it doesn't encroach on the development
52 parking spaces (1.25 per home) provided in the parking area to the east of the site
126 cycle parking spaces (three per home) distributed between three covered bike parking sheds.
Here's an overview of the types of property being built. The 'type' column refers to the design boards and the brochure:
| | |
| --- | --- |
| TYPE | DESCRIPTION |
| A | 5.2 metre-wide, two or three storey terraced house of two to four bedrooms |
| B | 6 metre-wide three storey terraced house of two to four bedrooms |
| C | 7.8 metre-wide pairs of ground floor and walk-up flats. Each ground floor unit has one bedroom and the upper floor flat has two. |
| D | Two-bedroom, lift-serviced flats within the East Terrace apartment building. |
| E | (is shown as letter K on the design boards) One bedroom apartment units, with private walk-up access. |
| Affordable | One bedroom apartment above the Common House, with lift access and one Bedroom E apartment as above. |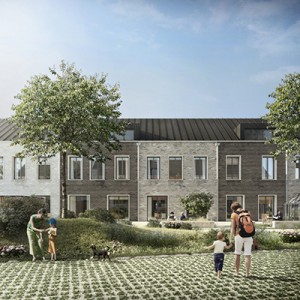 Lifetime Homes
The B-Type houses and the D-type apartments are designed to comply with the Lifetime Homes  criteria.
Lifetime Homes are ordinary homes incorporating design criteria that can be universally applied to new homes at minimal additional cost. Each of these features adds to the comfort and convenience of the home, and makes it more accessible for people with reduced mobility.
Our homes are flexible and adaptable; they are not 'special', but are thoughtfully planned to create and encourage better living environments for everyone. From raising small children to coping with illness or dealing with reduced mobility in later life, the designs have the ups and downs of daily living in mind. This will make it easier for us to stay in our homes if our circumstances change, rather than being forced to move.
For more information visit Lifetime Homes.
Pedestrianised lane
We've opted to have a shared street on our site ("Marmalade Lane") between the North and South terraces, to help foster a stronger community. It will be a communal space between our houses that can be used in many ways and which won't be dominated by the car (access only), as most streets are now. This means children can freely and safely play outside our homes, and adults can meet for a chat or have a street party. Cars are kept out of sight on the Eastern side of the site.
The Marmalade Lane will be accessible to vehicles only in an emergency or by prior agreement of the members for refuse collection, deliveries and removal vehicles.
Sustainability
Energy efficiency
The designs apply passive thermal principles, meaning that homes will be highly energy efficient, with warm living environments and very low energy bills. This helps to reduce the ecological footprint of the home – which matters a lot to us.
Our homes will be built using Trivelhus's Climate Shield system – a high-performance, closed panel system whereby pre-insulated wall panels are precision manufactured then assembled and finished on site. The system has been used to build over 7,000 homes in Sweden and 300 in the UK.
For further details, see www.trivselhus.co.uk.
Green transport
We're really keen to explore more sustainable ways to travel. Have a look at the Travel Plan we're developing (February 2015 version).
Located in the north of Cambridge, Marmalade Lane has excellent sustainable transport links. It's right next to the guided busway, which has regular buses into town. Alongside the busway is a fantastic cycle/footpath, which makes rides into the Cambridgeshire countryside, and the nearby villages of Histon and Impington, a pleasure. It's an easy ride going south from Marmalade Lane into town too, with a cycle route running the whole journey.
The Chisholm Trail is a proposed new cycle route alongside the busway/railway that would link K1 residents on two wheels right through to the southern edge of the city, including Addenbrookes Hospital. For further details, see the Cambridge Cycling Campaign.
Cambridge North railway station is another initiative that promises to have a positive impact on the area. Opened in 2017 it is close to Marmalade Lane, Cambridge Science Park, St John's Innovation Centre and Cambridge Business Park. The new station brings train travel within walking and cycling distance or a short bus ride away. For more details, see Cambridge City Projects.
Productive gardens
We have a small productive garden planned into the scheme for some limited fruit and vegetable growing. This provides an ideal environment for all green-fingered and curious residents to have fun outdoors, contribute to the community and enjoy our green open spaces.  We are also considering taking an allotment space close by.
We plan to grow low-carbon and organic food that we can enjoy in Common House meals. We want our Shared Gardens to benefit the natural environment of Orchard Park and help it live up to its name and history.
Community
Cohousing
Community is central to the design of Marmalade Lane, especially with regards to the positioning of individual homes within the site. We will have a common house with fantastic shared facilities for cooking, eating together or just relaxing and chatting. We'll have communal gardens where children can play, and adults can relax and enjoy the green open spaces – even the keen and busy gardeners among us!
The cohousing ethos encourages and supports (but does not require) members to help each other: by meeting socially to encourage friendship and mutual support, by helping each other to maintain our houses and grounds, by knowing our neighbours and living nearby to friends who can help us if we need it, by sharing skills in the Workshop such as bike repair and metalwork, by sharing cars and vehicles,and by lending each other resources that we don't always need, such as spare bedrooms, washing and drying machines and space, lawnmowers and tools.
Common House
The Common House is at the heart of any co-housing project. Research has shown that eating together has been the greatest factor in small group social cohesion throughout human history. It's also vital that we have enough space to meet when discussing things that affect us as a group.
The Common House will provides spaces for meals and parties, games and entertainment, for children to play safely, for young people to have their own space to gather, where we can be close to nature yet protected from the rain and Cambridge's infamous cold winds. The Common House will have three guest bedrooms – allowing us to avoid the wasted space of needing them in our own homes, largely unused. All in all it will be more affordable for us all to have enough space for our needs while enjoying facilities that would be prohibitively expensive to own privately.
Consensus Decision Making
Consensus decision making is a creative and dynamic way to reach agreement between all members of a group. Instead of simply voting for an item and having the majority of the group getting their way, a group using consensus is committed to finding solutions that everyone actively supports, or at least can live with.
This ensures that all opinions, ideas and concerns are taken into account. Through listening closely to each other, the group aims to come up with proposals that work for everyone. Consensus is neither compromise nor unanimity – it aims to go further by weaving together everyone's best ideas and key concerns – a process that often results in surprising and creative solutions, inspiring both the individual and the group as whole.
For more information go to seedsforchange