Who are we?
We are a group of people interested in cohousing and ready to invest our time, energy and money towards creating a fantastic place to live. We are ordinary people who have been involved since 2008 and came together to form our limited company in November 2013 in order to move the project forward.
Our directors are all members of the group, planning to purchase a property, and elected by the members. They are:
Chris Wilson, a software developer in Cambridge
Robert Copcutt, a cohousing campaigner for 15 years
Hannah Shields, a committed cohousing campaigner
Jan Chadwick, retired ex debt adviser with a national charity and community enthusiast
Miranda Garfoot, a scientist, mother, musician, & gardener
Simon Howarth, teacher
Working groups
Members of K1 have formed working groups (WG) for various workstreams. The Phase Three WG, for example, has been set up for the period of the construction to provide a clear line of communication between members and our chosen developer, TOWN and Trivselhus. Other working groups include:
Publicity WG – getting the word out there to attract new members
Legal WG – working with CCL's solicitor to develop the lease agreement
Community WG – developing agreed principles for our life as a community
Transport WG – creating a sustainable travel plan.
Common House WG – is planning the shared kitchen and internal common areas
Finance WG – looks after the accounts
Key collaborators and contributors

Adam Broadway from Instinctively Green acted as the K1 group's project manager and professional advisor during the planning stages of the project.
To get us to this exciting stage, we have been kindly assisted by Cambridge City Council, who have paid for Adam's services and those of Cambridge Architectural Research who helped us develop our plans; Stephen Hill has our special thanks for his input and guidance. We have also been supported by a grant from the Homes and Communities Agency to fund work on producing the planning proposal for South Cambridgeshire District Council.
What is cohousing?
Cohousing is a type of intentional community that has been shown to work remarkably well around the world. Generally residents play a key part in the design their own houses, or may sometimes retrofit an already existing property. The designs are based around social interaction with a Common House a key element to the success of these communities. The common house is common to all cohousing communities so residents can share facilities, enjoy each others company and hold social events and shared meals.
Having a group of the right size is important, so that people can create robust relationships with each other, not too close and not too distant. As a group all homes are owned individually and we decide how much we share. This is a rare opportunity to enjoy an enhanced lifestyle with more facilities than in a "normal" housing development.
Examples of what we intend to share include:
Meals in the common house – because eating together provides the glue for a great community
Spare visitors bedrooms rooms in the Common House – there will be a booking process
Laundry / drying space – some households may choose not to have their own washing machines
Meeting and relaxation rooms in the Common House – for social and community events
Gardens, trees and paths – maintenance work is shared
A shared gym, workshop, and playroom
Cars – via a car club.
What makes K1 cohousing unique?
There are approximately 20 established cohousing communities in the UK, with others being planned. We are the first-ever three-way collaboration between cohousers, the Council as landowner, and a developer building our homes. We have not had to raise funds at the outset to purchase the land, unlike other cohousing schemes in the UK and owe a debt of gratitude to the landowner, Cambridge City Council, for their vision in recognising the value of cohousing and working with us to appoint our developer, TOWNhus, who have purchased the land from the Council. On completion of the development when all the homes are sold, ownership of the land and the other shared assets will be transferred to Cambridge Cohousing Ltd (CCL), our legal entity which comprising all the home owners. Through CCL we will all own and manage the site. A big benefit of this build model is our ability to access normal mortgage funding as this is an off-plan purchase.
Why are we doing this?
We want to be part of a community, not isolated from our neighbours, with good relations with each other. We want to live in Cambridge in high quality, environmentally friendly, highly energy-efficient homes which we can adapt to meet our future needs.
We want the benefits of shared community areas, for social, friendly and fun activities.
We want space to live, relax, and enjoy nature in a place where our children can play freely and safely
Why become a member?
As a member you will be able to choose your preferred property on a first come first served basis. Currently there are still properties available for prospective purchasers (there may be some rental opportunities, but we are essentially an owner occupied build). When a property type which you are interested in is fully reserved, we can add you to our waiting list.
What is the timescale?
Construction started in June 2017, with completion in early June 2018.
Where is the site?
The K1 site is located 3 miles to the north of the city centre close to the Science Park and Business Park. It's just over 2 acres in size.
Site Boundary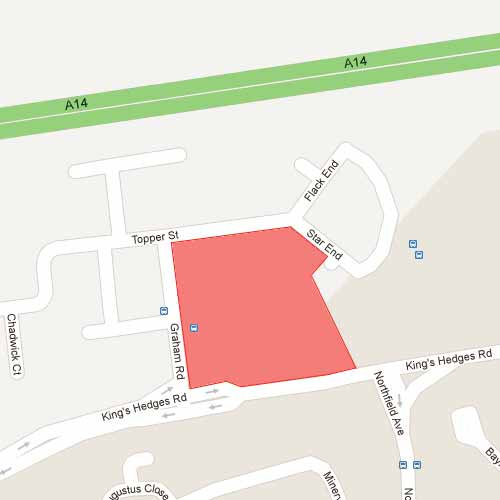 What will the development and homes look like?
See the Properties Page for plans, sizing, and pricing.
How will the finances and ownership work?
Members will need to buy their homes from the developer (TOWNhus), just as in other off plan transactions. Each home is a private purchase, individually owned by the purchaser.
Members will also need to join and invest in the K1 company (CCL) – please read the How to join page for the level of investment required to become a member of CCL.
CCL will eventually take ownership of the land once the development is complete. Members will own the freehold of houses, or a long leasehold (999 years) for flats, and through the company they will have joint ownership of the freehold of the site.
The freehold and leasehold agreements allow CCL to protect the interests of the whole group. Leasehold is very common and normal across the UK for properties that rely on shared resources (e.g. flats with stairways), and is well understood by banks. This should not make it harder to get a mortgage.
How do you apply for the Affordable Homes?
There are two homes designated as "affordable" which means they are discounted by 25% of current market value. Application to purchase these flats will be through a process agreed with South Cambs District Council. Do contact us for further information if you are interested in these homes.
How do we agree on things?
Our aim is to achieve consensus on everything possible and to use consensus based decision making. This process is a creative and dynamic way of reaching agreement between all members of a group. That means that if you have a different point of view you will be listened to and accommodated as much as possible – a vital part of creating a community which is "exciting, friendly, safe, and fun". We have the best interests of our community and our group at heart.
How secure will the site be?
All intentional communities experience greatly improved security because neighbours know each other. Therefore, anyone from outside the community is likely to be noticed and greeted by one of the residents.
What is planned for the shared areas?
The Common House will be the centrepiece of the development – a distinctive building that we'll really cherish. The facilities include a laundry, large kitchen, dining area, play area, guest rooms, lounge and two multi-use room. An additional workshop and small gym are below the E flats on the southwestern corner.
The shared gardens are the other special place, offering opportunities for play, food production, socialising and contemplation in a setting that provides welcoming green spaces for wildlife as well as for people.
How will community events work?
This is very much up to us. We have regular meetings to decide on important issues such as maintenance, and to plan fun social events, which will continue when we move in.