Who are we?
Cambridge Cohousing members are the residents of Marmalade Lane. The development site, just completed, was known as 'K1' in Orchard Park, prior to the purchase of the plot by our developer.  Some members have been involved since 2008, others are more recent joiners.  In November 2013 we formed our company, Cambridge Cohousing Limited (CCL), in order to move the project forward. On completion all our purchasing members will become directors.  In the 20 years since our inception, membership has changed many times, but the commitment to achieving a cohousing community has not wavered.
How do we function?
Directors overview of our activities and working groups manage the various workstreams. All members are expected to participate and contribute to one or more of the groups to facilitate the smooth running of our community, which also reduces our service charge!
How long has the project taken to develop?
It has taken 18 years since the original idea of building a cohousing community started in Cambridge in 2000, shortly after the first newly built cohousing community in the UK was occupied.  Like all cohousing initiatives the problem was finding land and it took the financial crash in 2008, and the willingness of the Cambridge City Council to consider an alternative option for plot 'K1', that unlocked access to the land.
What helped to get the project off the ground?
With the help of a our then project manager Adam Broadway of Instinctively Green, who helped guide us for several years, and chartered surveyor and development planner  Stephen Hill of C2O Future Planners, the members involved at that time began work to prove other people would be keen on cohousing in Cambridge. With our professionals help we formed a legal company, Cambridge Cohousing Limited, and developing a client brief under the guidance of Jim Ross at CAR.  We also had a grant from the Homes and Communities Agency to help fund their support which enabled us to produce the outline planning proposal for South Cambridgeshire District Council.
How was our developer selected?
The client brief became the basis for the City Council's tender for a development partner for the group, and the appointment of TOWN in partnership with Trivselhus & Mole Architects.  Then began the sometimes challenging and slow process of obtaining planning permission from South Cambridgeshire District Council.
How was the construction company selected?
Detailed drawings and a tender document were prepared for a construction contract. Coulson, a local highly experienced building firm, were successful and in June 2017 building started, completing in December 2018.  
What are the benefits of cohousing?
Being part of a community, not isolated from our neighbours, with good relations with each other, has proved to be the basis of a happier, healthier and longer life. We all want to live in Cambridge in high quality, environmentally friendly, highly energy-efficient homes with the benefits of shared community areas, for social, friendly and fun activities, and space to live, relax, and enjoy nature in a place where our children can play freely and safely. We envisage coming together for three community meals per week in the Great Hall and using our two amenity rooms in the common house for small gathering, meetings, fun activities such as book groups, yoga, board games or afternoon tea on the balcony overlooking the gardens! Our Common House has a large wood-burner to cosy up around in those winter evenings when a convivial glass of wine and a chat with the neighbours is just what the doctor ordered!
What was the timescale?
Construction started in June 2017 and completed in December 2018.
Where is the site?
The K1 site is located 3 miles to the north of the city centre close to the Science Park and Business Park. It's just over 2 acres in size.
Site Boundary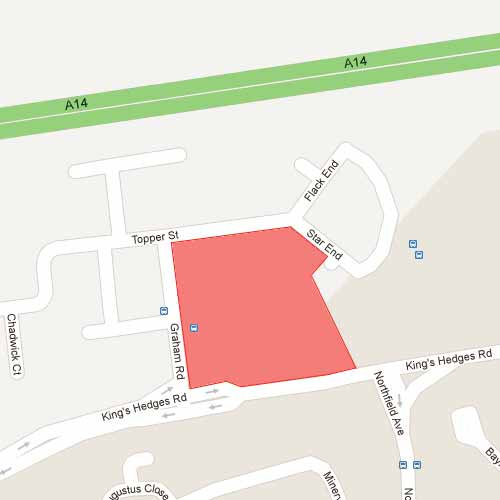 What do the development and homes look like?
Please go to Marmalade Lane for a full specification of the homes. The houses all have ground floor underfloor heating, both houses and apartments and flats have engineered timber ground floors and carpeted upper floors, large windows to maximise light, Symphony Gallery Kitchens with Zanussi appliances, a small private garden with decking and green space or a large balcony and, of course, benefit from all the shared faculties! To see the available homes go to Rightmove
What does the Common House look like?
This stunning building designed by MOLE is the centrepiece of the community and it's heart with secure access. The use of wood features throughout, to provide a warmth and cosiness to the environment. On the ground floor we have a double height "Great Hall" for dining, with three French doors leading to the garden and patio for al fresco meals. Meals will be cooked in our high specification kitchen by our enthusiastic members. Our children's play room will provide a safe fun environment for our growing group of under kids (12 under 8's and counting!), the office will provide an area for our administration and finance groups to work,  storage room for the kitchen larder, two WC's, one with disabled facilities, laundry and lifts access to the upper floor. F & D apartments complete the configuration. The first floor has two multi-use rooms, one with a balcony looking over our garden, the other overlooking the "Great Hall" and with a huge window onto Marmalade Lane. In addition our first floor has three guest bedrooms and a bathroom.
The whole design is flooded with light – a fabulous space for us all to enjoy!
You can watch the building, and all the homes, taking shape by following us on Facebook and Twitter where we post weekly photographic updates.
https://www.facebook.com/CambridgeK1CoHousingProject
https://twitter.com/CambridgeK1/with_replies
How does the finances and ownership work?
Before you can reserve a property you must be "purchase ready" and become Member of Cambridge Cohousing Ltd.  Please read the How to join page for details.
Once a members you will be able to reserve your homes from the developer (TOWNhus) with Savills, just as in other off plan purchase transactions. Each home is a private purchase, individually owned by the purchaser.
Who owns the "Estate"?
CCL will take ownership of the land once the development is complete and all homes sold. Members will own the freehold of houses, or a long leasehold (999 years) for apartments and flats, and through the company you will have joint ownership of the freehold of the "estate".
The freehold and leasehold agreements allow CCL to protect the interests of the whole group. Leasehold is very common and normal across the UK for properties that rely on shared resources (e.g. homes with common areas), and is well understood by banks and building societies.
How do we agree on things?
Our aim is to achieve consensus on everything possible and to use consensus based decision making. This process is a creative and dynamic way of reaching agreement between all members of a group. That means that if you have a different point of view you will be listened to and accommodated as much as possible – a vital part of creating a community which is "exciting, friendly, safe, and fun". We have the best interests of our community and our group at heart.
How secure will the site be?
All intentional communities experience greatly improved security because neighbours know each other. Therefore, anyone from outside the community is likely to be noticed and greeted by one of the residents. Our southern boundary  gate into the garden will have secured access, but we are not a "gated" community.
What areas are shared?
The Common House is the centrepiece of the development – a distinctive building that we'll really cherish (see above).The workshop and small gym are below the E flats on the south western corner and is equipped both with shared tools and equipment. We will be selecting the best of what we all already own and are willing to pool!
The shared gardens are the other special place, offering opportunities for play, food production, socialising and relaxation in a setting that provides welcoming green spaces for wildlife as well as for people. Our planning consent includes the installation of bat and bird boxes and native trees plants and hedges.
How does the community work?
This is very much up to us. Our working groups meet regularly to discuss important issues and plan maintenance, finance, publicity, management, transport etc. Then there is the social aspect of cohousing – all of us contribute to a pool of ideas for our fun and enjoyment!